Project under development
IRDG is Building a network of international actors for post-conflict rehabilitation and development.
At the end of  2021, IRDG visited the Karabakh region of Azerbaijan and met with the Mine Action Agency of the Republic of Azerbaijan (ANAMA). The Azerbaijani organization responsible for demining war remnants has accompanied IRDG to former war zone in order for our organization to raise awareness among the international community.
Azerbaijan is currently dealing with the disposal of remnants of war with all the means at its disposal, but it is also working to solve the problem of internally displaced persons, who number around 750,000 people , in addition to 250,000 refugees.
We have been witnessing the destruction of villages and livelihoods affecting the region. But we also witnessed the will and energy of the Azerbaijani people to tackle the reconstruction of the region. Despite this, the contaminated areas are vast, the number of victims requiring assistance is enormous and the resources allocated are small compared to the complexity and scale of the problem.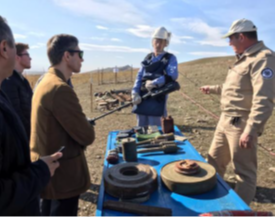 Following his visit, at the end of 2021, IRDG requested the opening of a Chapter on demining in Azerbaijan with the UNMAS (United Nations Mine Action Service), in order to help bring the necessary means on the fields and bring the support of the international community.
We have also confirmed for 2022 several press conferences as well as written and oral press releases for the attention of the United Nations Human Rights Council (UNHRC).